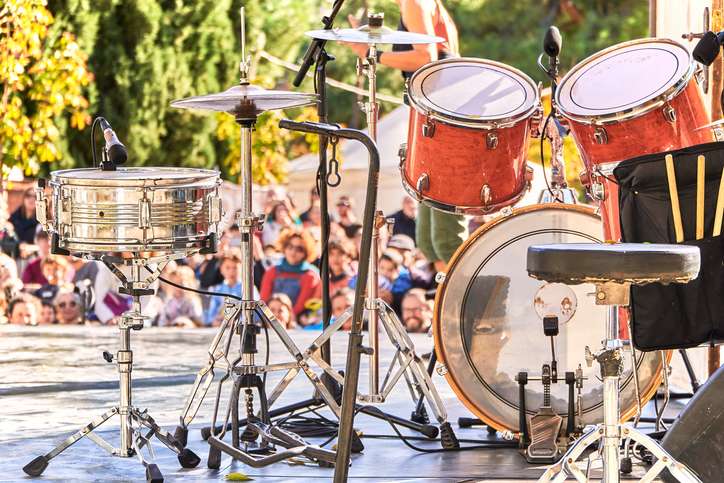 Downtown Fort Wayne is one of the best places to be in summertime. If you live in downtown Fort Wayne apartments like The Riverfront at Promenade Park, you have a sparkling oasis right here at home where you can swim, socialize, or just watch the sunset from your rooftop retreat. If you do wish to venture off the property, here are just a few of the summer events taking place around Fort Wayne.
Art and Live Music
"Joys of Summer"
This exhibit at the Castle Gallery takes place through August, and the gallery is open Wednesday through Saturday.
Country Night at Pedal City
Enjoy a night of live music and country western dancing on the patio at Pedal City.
Recurring weekly on Friday.
Rock the Plaza 2023
This free concert series takes place at 6 p.m. Saturdays through July at the Allen County Public Library outside on the plaza.
Muddy River Concert Series
Enjoy free live music Wednesday evenings beginning at 7 p.m. through August on the Auer Lawn with food and drinks from the Promenade Park Cafe.
For Outdoor Enthusiasts
Trek the Trail
Join a family-friendly bike ride Tuesdays at 6 p.m. through September. All skill levels are welcome– no one is left behind. This is a terrific way to explore new trail sections!
Sweet Breeze Canal Boat Cruises
Also at Promenade Park, enjoy a canal boat cruise Saturday and Sunday afternoons until October 8th. The authentic canal boat Sweet Breeze offers an opportunity to learn unique facts about the Fort Wayne riverfront in a 45, 60, or 90-minute guided boat tour.
An "Herban Garden" exhibit
Discover the community impact of urban gardening at this exhibit taking place every day except Monday at the Fort Wayne Foellinger-Freimann Botanical Conservatory from July through November 12th.
Hot Summer Nights at Black Pine Animal Sanctuary
These Friday night special events at Black Pine Animal Sanctuary allow visitors to walk the grounds at their own pace to observe more than 60 species of animals including birds and reptiles, and enjoy a food truck dinner. Dates vary and take place throughout August; see the sanctuary website for details.
Fort Wayne Pools and Splash Pads
There are so many ways to beat the heat at a pool or splash pad in Fort Wayne, including Buckner Park, Franklin Park, Kreager Park, and best of all, Promenade Park just a quick stroll from The Riverfront Apartments. The Kids' Canal at Promenade Park features a specially built stream for kids to play in the water.
Farm Markets
Johnnie Mae Farm Stand
This farm stand takes place at the JMF Community Building each Friday from 2 to 6 p.m. through September and promises fresh, local, and organic produce at prices at or below average prices with varieties you won't find in the typical grocery store.
Fort Wayne's Farmers Market
The Fort Wayne market takes place Saturdays from 9 a.m. to 1 p.m. through September at Electric Works and you'll find a wide variety of organic local produce, plus art, baked and canned goods, coffees and teas, and so much more.
YLNI Farmers Summer Market
The Young Leaders of Northern Indiana offers another fun outdoor shopping experience Saturdays through October on the corner of Wayne and Barr Street in downtown Fort Wayne. Can't make it on Saturday? Stop by the Wednesday market from 4 to 7 p.m. through August at the History Center on Berry Street.
Explore The Riverfront at Promenade Park Apartments
In your own exclusive Riverfront community, you have access to a resort-style pool, rooftop retreat, fire pits, and other unique outdoor socializing areas that make a perfect summer getaway right here at home. We have one, two, and three-bedroom floor plans in a variety of configurations available now. Call (260) 222-4193 to schedule a tour and reserve your new home on the Riverfront today.