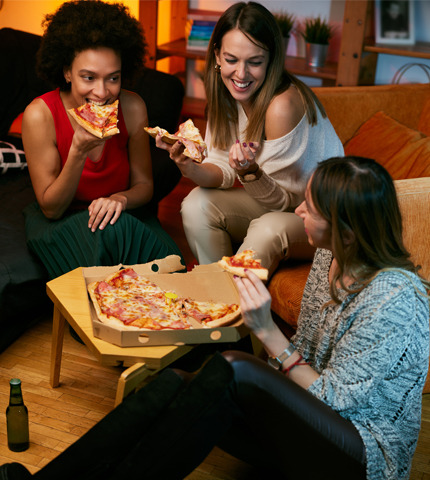 Slumber parties might be one thing we all cherished growing up, but why should kids have all the fun? When you live in a spacious, modern apartment like The Riverfront at Promenade Park - Fort Wayne, a grownup pajama party could be a fun and unique way to host your friends and take advantage of that terrific space. Here are a few tips for making it a memorable experience.
Before the Party
Send fun invitations. Everyone loves getting real mail, and nothing is more delightful than getting a good old-fashioned party invitation.
Discuss things like alcohol consumption, noise level, and sleeping arrangements ahead of time to ensure everyone is comfortable and has a good time.
Coordinate jammies, or offer your guests cozy slippers when they arrive. Even if you opt out of matching attire, make sure your guests understand that casual, relaxed clothing is encouraged and they shouldn't feel obligated to dress up!
Games and Activities
Board games, card games, karaoke, and a light-hearted movie or TV series marathon are all easy ideas for party activities that don't require a lot of thought or planning. The classic Truth or Dare/Would You Rather? game is one that doesn't even require any supplies.
Also consider games that involve movement and silliness, such as Twister, or this inflatable limbo game.
You could even offer your guests nostalgic games like Battleship, Monopoly, and Uno. Even if you don't play them for very long, they can make a fun centerpiece or decorative element to your party atmosphere.
You might even want to offer your friends makeovers, facials, or manicures. If you don't want to break out the nail polish over your shiny new plank flooring, no-mess nail art with press-on nails and stickers can be just as fun.
Mood and Lighting
Don't be afraid to scatter pillows and blankets all over the floor to encourage a casual, cozy atmosphere. String up some party lights or arrange some electric candles around the room to create a festive vibe.
Take inventory of the seating in your party space, and make sure there are enough comfortable seats for your guests. Everyone doesn't have to have their own chair; low stools, ottomans, cushions, and benches all make appropriate seating for a party, and they can be moved around and rearranged as needed.
Snacks and Drinks
Finger foods and charcuterie boards are an easy way to ensure everyone is fed and you, as the host, won't be laboring over a hot stove or preparing complicated, time-consuming dishes and missing out on all the fun!
You could put together a tray of nostalgic kid snacks such as red licorice, string cheese, Oreos, frosted animal cookies, and Goldfish crackers. You could also prepare a grownup charcuterie board with olives, nuts, meats, and cheeses. That way, you have a good combination of nostalgic and sophisticated snacks.
For any gathering, it's a good idea to offer both non-alcoholic and alcoholic beverages to ensure all of your guests have something they're comfortable drinking—juice boxes for some, boxed wine for others.
A Party Playlist
Don't forget about the tunes! Whether it's everyone's current favorite songs, all the hits of your era, or an eclectic mix, setting the vibe with a good party playlist will help make the evening more memorable.
Take your playlist planning a step further by asking each guest to share one or two of their favorite songs or the #1 hit from the year they were born.
Photo Wall
Capture the silliness and fellowship of your evening with a photo wall and fun props. If you want to go a step further, a Polaroid or disposable camera makes a fun party prop too.
If you're ready for an apartment upgrade that comes with plenty of space to entertain, look no further than The Riverfront Apartments at Promenade Park. These new, luxury units in downtown Fort Wayne offer direct riverwalk access, designer lighting, flooring, and fixtures, and a stunning view. Call for a tour today: (260) 368-5123.