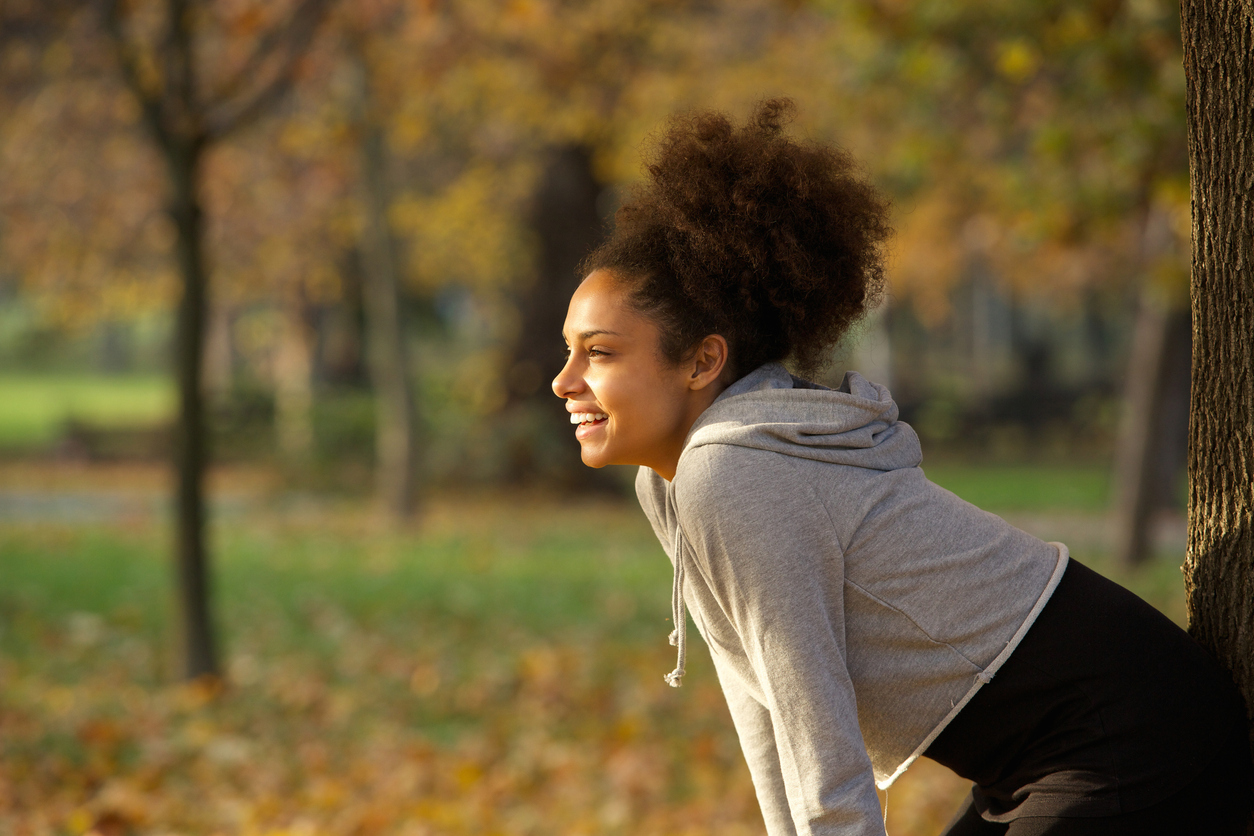 Fall in Fort Wayne is a beautiful season filled with colorful leaves, crisp air, and pumpkin-spiced everything. But as the temperature drops and daylight hours diminish, it can be tempting to curl up indoors and hibernate until spring. However, if you live in downtown Fort Wayne apartments with a state-of-the-art fitness center like The Riverfront at Promenade Park, you have a terrific opportunity to maintain your fitness routine throughout the fall and beyond. Here are some fitness tips to help keep you motivated through the darker fall and winter months.
Set Achievable Goals
Fall is a season of change, making it an ideal time to set new fitness goals. Whether you want to increase your strength, improve flexibility, or boost your cardio endurance, establish clear, achievable objectives. The fitness center at The Riverfront at Promenade Park offers a variety of equipment and resources to help you reach your goals, from free weights and machines to a private studio and On Demand fitness.
Keep a Consistent Schedule
With the changing season comes a shift in daily routines. It's important to maintain consistency in your workout schedule. Try to establish a regular time for your fitness center visits, whether it's in the morning to kickstart your day or in the evening to wind down after work.
Mix Up Your Routine
While keeping a regular time for your fitness routine, you'll also want to keep things interesting and avoid workout boredom by trying a range of fitness classes, On Demand workouts, or circuit training. Different workouts can introduce variety and motivate you to stay on track with your fitness goals. Plus, it's a great way to meet other members of your apartment community.
Stay Hydrated
Even in cold weather, it's essential to stay hydrated during your workouts. Bring a reusable water bottle with you on your walk or when you visit the fitness center and remember to drink throughout your session. Proper hydration is crucial for maintaining energy levels and maximizing the benefits of your workout.
Don't be afraid to step out into the cold
One of the greatest perks of living in an apartment community with a fitness center is that you can continue your workouts indoors, shielded from the chilly fall weather. However, on days when the conditions aren't dangerous, don't be afraid to take it outside. With two private access courtyards as well as direct Riverwalk access, The Riverfront provides a variety of safe and scenic places to walk, run, and bike. You'll also find Headwaters Park, Lakeside Park, and the greenways along the St. Joseph, St. Marys, and Maumee Rivers nearby. You'll find you become warmer as your heart rate increases and you can stay quite comfortable even when it's cold outside.
Safety First!
Be sure to know your personal health limitations and consult your doctor if you have any questions about starting a new fitness routine. Use equipment safely, maintain proper form, and consider working with a personal trainer if you're new to exercising. You might be eager and very motivated if you're starting a new routine, but don't overdo it! You don't want to be so sore on day 2 that you have to abandon your routine for a few days to recover.
Phone A Friend
Consider organizing group workouts or challenges with your fellow apartment residents. Sharing fitness goals and achievements with your neighbors can create a sense of community and make exercising more fun and accountable.
Celebrate Your Accomplishments
Don't forget to reward yourself for staying committed to your fall fitness routine with a seasonal treat like a pumpkin spice latte or a cozy evening at one of the fire tables on our rooftop retreat. Simple rewards can be a great way to stay motivated and acknowledge your achievements.
Living in a modern apartment community is a fantastic way to stay active and healthy throughout the year. If you're not yet a resident of The Riverfront at Promenade Park Apartments, downtown Fort Wayne can't wait to welcome you home. Call 260-222-4193 to schedule a tour and reserve your luxury apartment today.