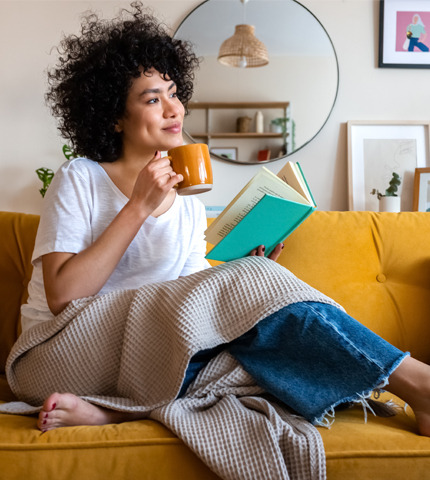 Jealous of all the teachers and kids on spring break trips? Take one of your own! You don't even have to go anywhere– with just a little planning and creativity you can create a terrific "staycation" at home that's just as rewarding as a resort. It might even be more restful since you'll avoid the jet lag and mountain of laundry when your vacation ends. When you live in downtown Fort Wayne apartments like The Riverfront at Promenade Park, you have everything you need for some luxurious downtime in the comfort of your own community.
Really Take Time Off
Taking some steps in advance to prevent unwanted disruptions will ensure you have an actual break from your responsibilities, just as if you were venturing off the grid to a vacation destination. This could mean turning off your phone, completing household chores and errands in advance, activating your email provider's Out Of Office auto-reply, and making sure you have no other commitments to get in the way of relaxation.
Plan Your Meals
This could be as simple as preparing some freezer meals ahead of time or budgeting to dine out. Alternatively, you might really love spending time preparing those gourmet meals you don't have time for on busy weeknights. Either way, having a plan for your meals ensures less time for meal prep and more time for fun.
Stock Up on Guilty Pleasures
It doesn't have to be anything elaborate, but stocking up on some comforts you know you'll look forward to at the end of your day can be a fun finishing touch to your staycation. This could be a new stack of romance novels, your favorite 90s sitcoms, or a few pints of Ben & Jerry's.
Plan A Picnic
If you don't want to bother with cleanup at home, consider taking a picnic to one of the many parks near The Riverfront. In addition to Promenade Park, Old Fort Park, Lawton Park, and Lakeside Park are all highly rated destinations just a short drive from downtown Fort Wayne and offer lovely green spaces with a water view.
Be a Tourist in Your Own Town
Schedule an outing that is popular with tourists and out-of-towners. It's a terrific way to learn something and gain an appreciation for the local art and culture in your town, whether it's a museum, a historical landmark, or maybe even a gaudy roadside attraction! Fort Wayne Children's Zoo, Electric Works, The Old Fort, Chief Richardville House, and the Firefighter's Museum are all fun local attractions that are just a short drive from The Riverfront Apartments at Promenade Park.
Schedule Spa Time
A massage, skin, or nail treatment are a few ways we might treat ourselves on a cruise ship or resort vacation, so why not treat yourself on your vacation at home? Book a special day just for you (and maybe a friend!) at the Woodhouse Spa or Tranquil Touch Spa in Fort Wayne. These spas offer a variety of body and skin treatments designed to leave you feeling energized and rej
uvenated.
Take Advantage of Apartment Amenities
If you live in a luxury apartment community like The Riverfront at Promenade Park, you can enjoy a wealth of amenities without going far from home. After sleeping in, break a sweat at the elite fitness center, cool off in the resort-style swimming pool, or take a stroll in the private courtyards or along the riverfront by way of the community's exclusive RiverWalk access. Play a few holes at the putting green before retreating to the rooftop with an indulgent drink from the coffee bistro. We even have a spa for your dog!
Living at The Riverfront at Promenade Park - Fort Wayne can make every day feel more like a vacation. And with plenty of luxury amenities and exclusive services, you can plan a restful spring break without the stress of traveling. Call 260-222-4193 to book a tour and make your vacation wishlist today.